Reserve your pet's vacation stay today!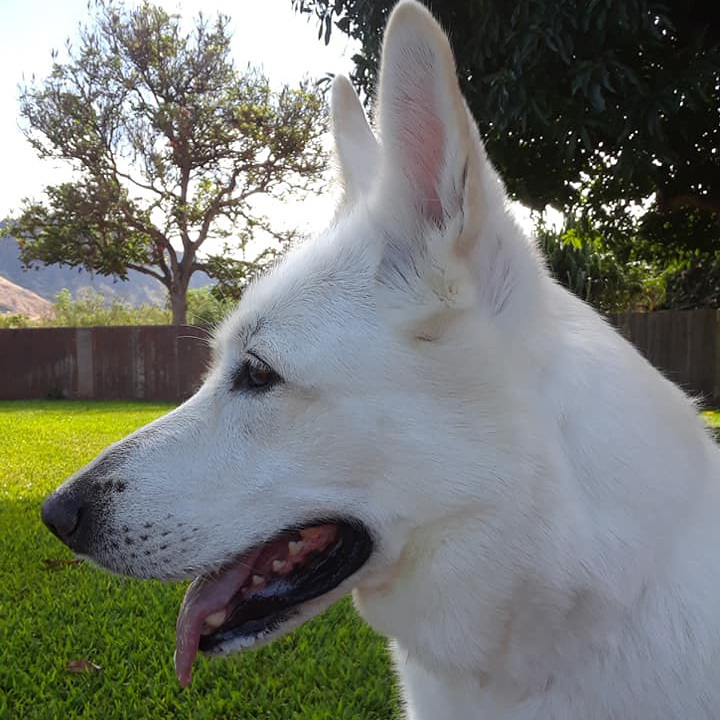 Our O'ahu dog boarding rates
Queen • $85/day (Includes private run)
King or Covered Queen • $95/day (Includes private run)
Super King Double* •

$175/day (Includes private run/Up to 2 guests.)

Air-conditioned Petite Suite •

$95/day (Must weigh 25 lbs or less)

Small Animals • Starting at $55/day (Rabbits, guinea pigs, turtles, chickens and ducks.)
Horse or Pony • Starting at $95/day
Monthly rates are available upon request, and in recognition of the sacrifices made by the men and women of the armed forces, we offer a special Military Rate when a pet's parent is deployed. We also offer a special rate for NRA members.
*King double includes up to two (2) compatible family members sharing the suite. Guests must be able to eat and sleep together without incident. Pet owner assumes all responsibility in the event of pet disputes.
All prices are subject to change without notice.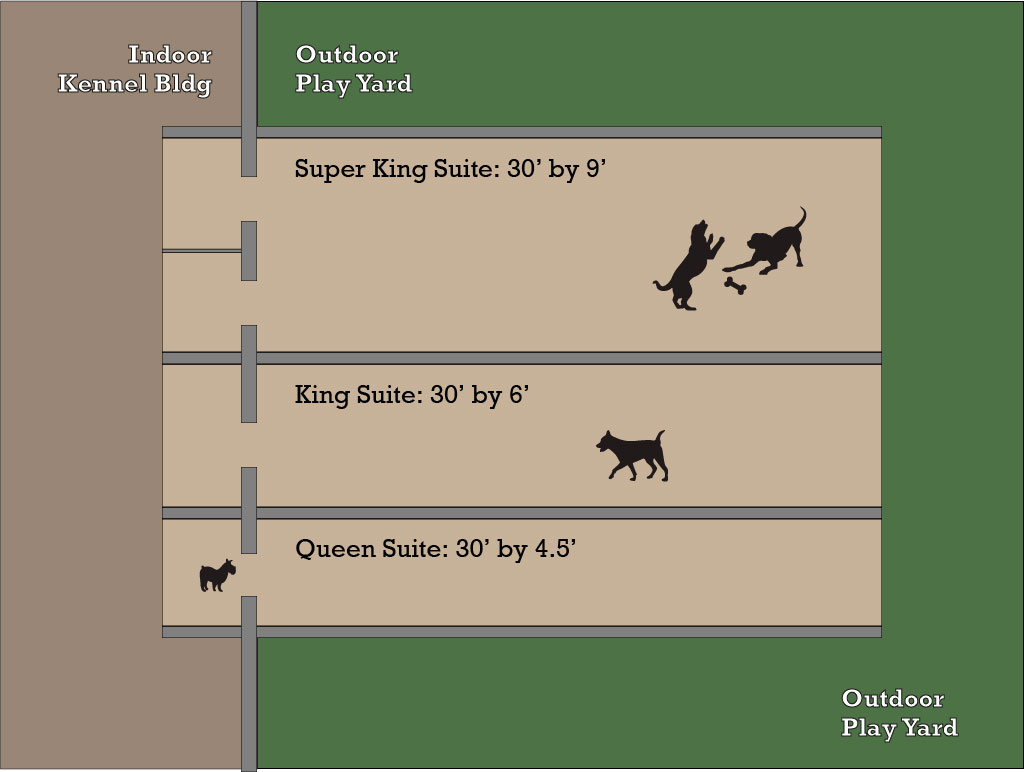 Plan View of our Large Indoor/Outdoor Runs
These unique runs give our guests a choice between resting inside or enjoying the out-of-doors.
Kennel Hours
Our office hours are from 9AM–4PM, Monday through Friday. Kennel hours, tours and check-in and check-out times are by appointment. As a courtesy to others, please be prompt. 
We are closed weekends and holidays, but rest assured that your pet is cared for—a member of our staff comes in twice a day to feed and care for our guests on these days. 
NOTE: If you will not be able to arrive at the scheduled time, please let us know in advance to re-schedule.
No check-ins/outs on Saturday.
Sunday check-ins/outs are at 9 AM or 4 PM only.
Check-out time is 10 AM to avoid being charged for the check-out day.
Weekdays check out by 10 AM to avoid boarding charges for that day.
The latest time to check in or out is 6 PM. We are sorry, but we cannot accommodate check-in's or outs after that time as it disrupts our guests' bedtime routine.
We have a 3-day minimum stay.
During November and December, the minimum stay is one week.
If you have an emergency, please call our cell phones at:
(808) 206-4576 or 808-228-5842 (Alex).
Download our boarding contract.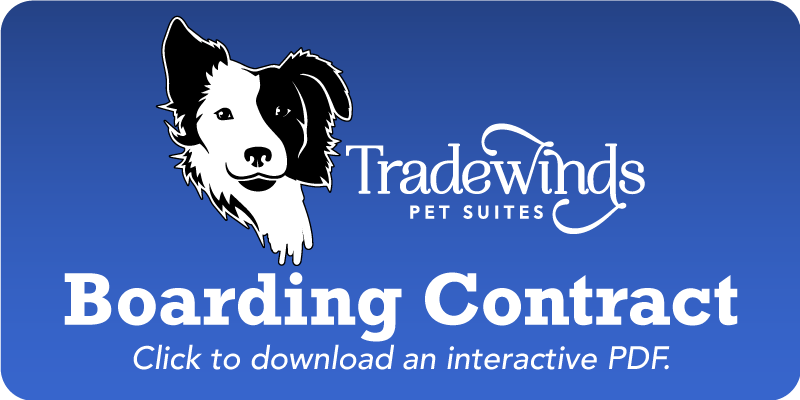 Follow this simple procedure to make your reservation. Call if you'd like assistance or clarification. 
Click on the graphic above to download our boarding contract to your hard drive. The form is interactive. Just type your answers in and save or print the file. 
Email or fax the completed agreement, along with your dog's veterinary/medical records. Most veterinarians will fax your records to us at your request.
We'll send you an invoice after we receive your completed contract and your pet's medical records. A nonrefundable deposit of 50 percent of the estimated boarding fees is required at the time of booking to guarantee your reservation. 
All payments are nonrefundable. Please be sure to finalize your travel plans before reserving accommodations. For your convenience, we accept personal checks, MC, VISA and Discover cards. All prices are plus Hawaii GET.
Reservations during holiday months — November, December, July & August — can only be accepted with full payment in advance. Surcharges apply for accommodations on the Fourth of July and New Year's Eve.
Confirming Your Reservation
Please note that reservations cannot be confirmed until we have received the following:
A completed and signed dog boarding agreement.
Copies of all required veterinary records. See the Guest Checklist below.
A nonrefundable deposit of 50 percent of the estimated boarding fees, or  payment in full during holiday months, as noted above.
Guest Checklist
For the health and well-being of all our guests, we require the following:
A written certificate from your veterinarian showing current vaccinations. 

Distemper, Parvovirus, Hepatitis, and Leptospirosis (DHLLP) must be current. (Proof of vaccination titer test is also acceptable).

In addition, documentation of a negative fecal float within 90 days of checkout date and a negative Heartworm test within the past year are required. Bordetella (kennel cough) is required within 6 months of boarding – sorry, no exceptions. If you're not sure your pet is properly immunized, please call us and we will be glad to help answer your questions.

All guests must be parasite-free and provide documentation of being on heartworm and parasite (flea/tick) prevention programs.

All guests must have had a bath within 24 hours of arrival at Tradewinds Pet Suites.
All personal items must be labeled with guest's name (blankets, toys, food, treats, etc.).
Other Features & Services
Oral and topical medications can be administered for a nominal additional fee. 

Please see the boarding agreement for further details or give us a call at 808-696-4900.

Music in kennels
References
Please click here for references and reviews from a few of our guests. (Scroll down for more reviews.)
Mahalo, and thank you for considering Tradewinds Pet Suites as your pet's "home away from home."
Visit our gallery for references from the guest themselves. Their smiles say it all!